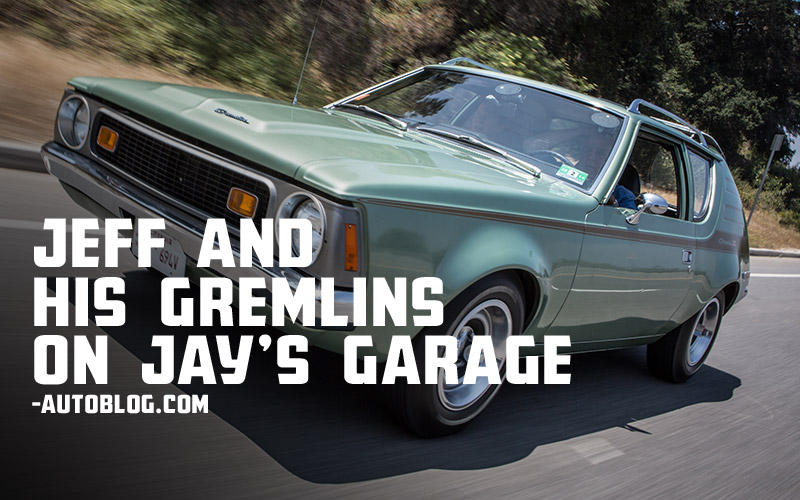 Jay Leno and Jerry Seinfeld may be the first comedians to come to mind when you think of car nuts, but as it turns out Jeff Dunham is also in the club. Best known for his comedic ventriloquism, Dunham is the puppeteer behind characters like Walter (the cranky old man) and Achmed the Dead Terrorist. As it turns out, Dunham also has an unusual taste for oddball "classics" like the AMC Gremlin. So Jay had him by the garage for this latest episode, bringing not one, but two of them along with him for a bit of a redux of Seinfeld's encounter with Jon Stewart.
The Gremlin was billed as "the first American-built import" long before Chrysler was calling their vehicles "imported from Detroit" (and later acquired AMC). Unlike the subcompact hatchbacks from Honda, Toyota, andVolkswagen, the Gremlin was built on a large-car platform and cut down to size. It was rear-wheel-drive, and came with either six cylinders or eight (notwithstanding the VW-sourced four offered later in its lifecycle).
Rear-drive and big engines, in Dunham's words, made the Gremlin something of a "poor man's Corvette," though Leno more readily calls it the "homeless man's Corvette." So the guest is clearly more enamored of his Gremlins than the host is, which would explain why Jeff has two of them – one with the six and one with the V8. The latter is in Levi's trim that would seem right up Jay's alley, if only he'd stop making fun of it. Check out the whole video above.
Click here to read the full article at AutoBlog.com