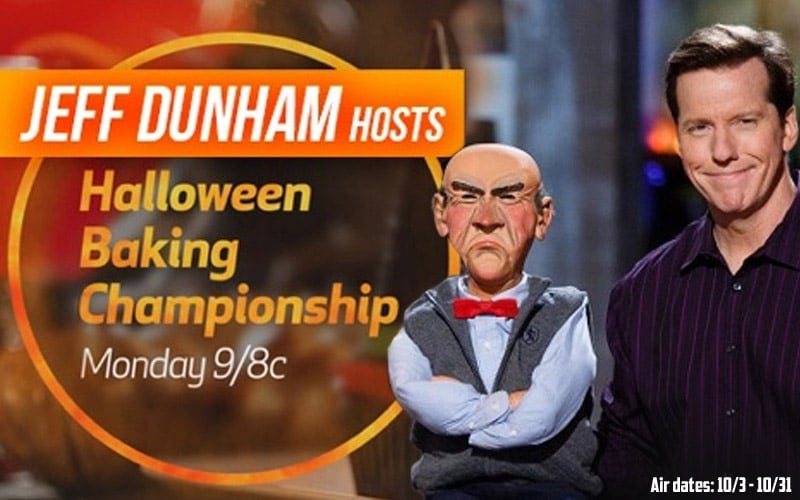 Return of Halloween Baking Championship and the Premiere of Kids Halloween Baking Championship
This Halloween, it's time to bake up some thrills, chills, tricks and treats! Starting Monday, Oct. 3 at 9|8c, seven terrifyingly-talented bakers will compete to create the most spectacularly spooky desserts on this season of Halloween Baking Championship. Comedian and ventriloquist Jeff Dunham, joined by his sidekick Walter, will challenge the bakers' creepy creativity as they make bite-sized monster morsels, creepy clown cake-pops, desserts stuffed with trick-or-treat candy and more! Throughout the five-week competition, judges Sandra Lee, Carla Hall and Damiano Carrara will critique the hair-raising confections, and at the end they will award one baker the title of Halloween Baking Champion and the grand prize of $25,000!
Fans can go behind the scenes of this spooky competition and see the creepy creations up close at FoodNetwork.com/BakingChampionship, and they can join the confectionary conversation on Twitter using #BakingChampionship.
Then on Wednesday, Oct. 5 at 8|9c, Duff Goldman and Alison Sweeney will challenge four fan favorites from Kids Baking Championship to get goulish and bake their way through two chilling challenges for a chance to win $10,000 and the title of Kids Halloween Baking Champion.
For kid-friendly Halloween recipes, spooky lunchbox snacks, and cute and creepy party ideas visit FoodNetwork.com/Halloween.
Read more at: http://blog.foodnetwork.com/fn-dish/2016/09/halloween-baking-championship-season-2/?oc=linkback